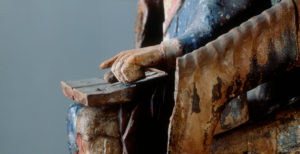 An unusual Sleeping Beauty
In 1924 a worker found in Raron the most significant exampel of Romanesque art in Switzerland.
It was not roses that guarded the sleep of the enthroned Madonna with the Child, but human bones. And her sleep lasted not for a hundred years, but for several centuries.The sculpture was piously buried in the charnel house of the church of Raron according to a custom prevalent in Europe at the time, and gradually vanished beneath the skulls and bones of the dead.
The reason for burying the wooden figure was provided by the rebuilding of the parish church between 1510 and 1515. The Romanesque Madonna had fallen out of fashion and was no longer needed.
The person who finally kissed her awake again was not Prince Charming, but a tradesman from the canton of Valais. During restoration work on the charnel house of Raron in 1924, he was told to clear out the bones–and so he stumbled upon several sculptures, including the most significant example of Romanesque art in Switzerland.